Wednesday, 16 May 2018 | Admin
We're in the finals of the Sussex Awards!
In the category of Best Women's Store.
Monday, 14 August 2017 | Admin
Annie's Closet has a different sale every week in August.
Wednesday, 25 January 2017 | Admin
Isobel's Corner. One of the new categories introduced in 2016, as Annie's Closet expands.
Wednesday, 3 February 2016 | Admin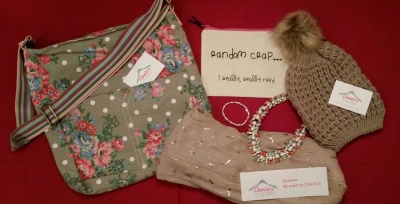 Valentine's Day presents for you from your husband.
1 Comment
Friday, 18 December 2015 |
Admin
It's been a busy year and we'd like to wish all our Customers and followers a Merry Christmas and a Happy New Year
Friday, 11 December 2015 | Admin
We've some exciting news at Annie's Closet as we have completed a move to a new website provider, based in the UK.
Our new website has the same URL … www.annies-closet.co.uk – but has become a lot more feature-rich, responsive, crisper and offers an overall, more professional and pleasurable shopping experience for our very valued Customers.
Thursday, 11 December 2014 | Admin

I know ... it's been a long time again :(It's so busy at Annie's Closet there just isn't enough time or energy left at the end of the day to write a blog.
Wednesday, 15 October 2014 | Admin

A year ago on 15th October, I never expected to be where I am now...Annie's Closet was launched around 9pm on 15th October 2013 with a few scarves on my dining room table, a new facebook page and crossed fingers!